Tips for chosing best baby carrier for back carry
When we carry the baby behind, the weight is better distributed by our center of gravity. Consequently, the weight distribution is more ergonomic. If you have back pain when carrying your baby in front, we recommend you try baby backpacks on the back. You will not notice the weight of the baby!
With the baby carriers on the back support, the babies are more entertained. They provide a wider field of vision. If your baby gets overwhelmed by being carried in front of him, try changing the baby's position.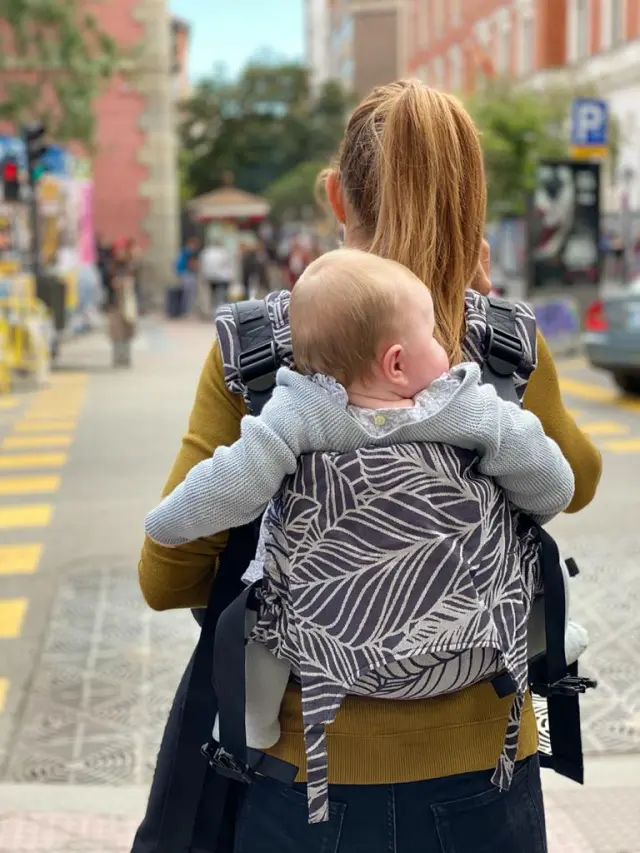 In addition, carrying on the back allows us to do activities such as cooking, doing housework, etc., that we cannot do with the baby in front of us.
Traveling will be more comfortable and practical with a back baby carrier, while your baby or child sleeps comfortably.
Recommendations for back baby carriers
Back-carrying has many advantages, and it is easy if we are clear about how to do it correctly and safely.
There are many baby carriers that we can use to carry our baby on our back, with different levels of difficulty.
Best baby carrier for back carry in 2022
The unique dual halo harness with front-facing arm loops allows you to clip your child in quickly and safely. Designed for maximum comfort for both children and adults. For children, a padded cockpit with soft contact surfaces and ventilated side panels, and for adults, a breathable mesh back panel and hip wings. A washable drool pad, cord attachment loops to keep toys and pacifiers within reach, and a built-in sunshade are all included.
Characteristics of Poco child carrier:
A built-in sunshade provides UPF 50+ UV protection easily stored and deployed
Luxury child cockpit with Double Halo harness and adjustable and removable foot stirrups
The drool pad may be removed and washed
Snacks can be quickly accessed in the open mesh hip belt pockets.
The torso may be adjusted to fit a wide variety of adults (up to 6″ of adjustability)
An external hydration sleeve and a lower zipped compartment (fits up to a 1.5L reservoir, sold separately)
The minimum child weight for use is 16 pounds, while the maximum weight for the child, gear, and carriers are 48.5 pounds.
Outdoor Lifestyle Sport Type
Mountain journeys for families become considerably more enjoyable with the brilliant new Aircomfort Sensic Vario mesh back system: the load is transferred properly, the child carrier sits compactly – and the back is thoroughly ventilated. Passengers are also comfortable: the large, soft cushion gently cushions the exhausted child's head, even in the Kraxe's corners, and promotes a restful night's sleep. The Kinderkraxe's side entry and easily accessible belt system ensure safety.
The Baby Comfort child carrier series is ideal for parents seeking a safe and comfortable child carrier to take their children out and about in nature with them!
Characteristics of Deuter child carrier
Buckle closure made of 210 Denier Polyamide
WITH THE KID COMFORT: you can bring your most precious carriage along for all your outdoor adventures. Designed to meet the needs of both babies and their parents.
MAXIMUM VENTILATION, MAXIMUM STRENGTH: Maximum ventilation is provided by the Aircomfort mesh back system. A long-lasting frame made of flexible, break-resistant spring steel distributes weight evenly and creates a ventilation zone between the wearer and the pack.
ADJUSTABLE: The Vari Slide back length adjustment mechanism allows for the optimum fit and tailored comfort.
LIGHTEN UP: Hip fins that pull forward, a padded hip belt, load adjustment straps, and an adjustable sternum belt guarantee that the burden is uniformly distributed and the backpack stays secure.
The Baby Carrier Mini is a tiny, easy-to-use baby carrier that you can put on quickly for frequent brief babywearing sessions. It's ideal for the first few months, when your child, like other infants, requires constant attention. To remove your sleeping baby, just unfasten the entire front area of the baby carrier. The silky textiles provide good support for your baby's back, legs, and hips. The baby carrier's flexible fabric allows you to see and feel your baby's position as well as the natural C curve of their back.
Characteristics of babybjorn baby carrier:
For a newborn, this is the ideal first baby carrier. It's little and simple to use.
Jersey in 3D – Our newest and softest fabric is as comfortable as your favourite T-shirt. Soft and adaptable
Carry on your front, facing either in or out.
Fast-drying: After washing, a 3D mesh baby carrier dries quickly.
Simple to clean: Your baby carrier can be washed in the machine (warm/40°C).
Flexible: With your hands, you can feel your baby's position through the soft and stretchy fabric.
Weight and Age: During the first several months of your baby's life, this is the best option. Tested and found to be safe for children aged 0 to 1 year (minimum 7 lbs/3.2 kg, maximum 24 lbs/11 kg).
With this adorable, child-sized Doll Carrier from Ergobaby, your child may carry their beloved doll just like mom and dad used to carry their baby. It has padded shoulder and waist straps for carrying comfort and may be worn on the front or back. The canvas body is made entirely of cotton. The shoulder and waist straps are padded. Wash and dry on a moderate cycle in the machine. Ergobaby Carriers are ergonomically designed to cradle your baby in a natural sitting position while equally distributing the weight of the baby between your hips and shoulders. Ergobaby Carriers are the pinnacle of comfort and ergonomics, letting you carry your child from birth to toddlerhood (12-45 lbs).
Characteristics of Ergobaby baby carrier
Toy or doll carrier for children to imitate their parents.
Designed to be used on the front or back of the house.
The canvas body is made entirely of cotton.
Shoulder and waist straps are padded.
Wash and dry on a moderate cycle in the washing machine.
5. Kelty Journey PerfectFIT Signature Series Child Carrier
Their classic carrier will make it easy to get out the door, whether you're going for a walk in the park or a day on the trail. Entire comfort now meets total safety, ensuring that both the pilot and the delicate cargo enjoy the voyage! Our Journey PerfectFIT Signature child carrier will make it easy to get out the door, whether you're going for a walk in the park or a day on the trail.
Characteristics of PerfectFIT child back carrier:
The Kelty PerfectFIT Suspension System conveniently adjusts to fit both mom and dad, allowing you to share the load comfortably.
In case you forget your sunscreen, there's an integrated sunshade. Stafford Small Back Poly 420D Body Fabric
For worry-free trekking on any terrain, a 5-point safety belt and padded aluminium roll cage are included.
The adjustable foot stirrups and wide seat base mimic your child's natural resting position.
To safely lift, shift, and set down the kid carrier, there are multiple grips handles.
Extra clothing, toys, and other items can be stored in the large zippered pouch with internal stretch pockets.
Water, snacks, and your phone are all easily accessible thanks to the zippered hip belt pockets. Blend of 75D Poly and 140D Nylon
Baby carriers that support the baby's legs are perfectly safe. When the baby's legs dangle off the carrier and stay that way for a long time, the chance of hip dysplasia, or abnormal hip development, increases. Your baby will feel more secure and comfortable in a carrycot with a firm mattress, which will help her sleep better. These best-rated baby carriers will give you an overview of the different types of baby carriers available. Choose the perfect carrier for your baby and relax during the crucial years of his or her life.
Choosing the right baby carrier that doesn't hurt your back
The backpack baby carrier, due to its simplicity of use and speed when placing it. Choose the most suitable ergonomic baby carrier for the age and characteristics of your baby.
The backpack strap adjustments allow us to quickly and safely loosen and adjust the strap, to easily pass the baby backwards.
When you slide the carrier onto your back, make sure your baby is centered and the carrier panel still reaches from knee to knee. Use your fingers to measure if there is space between the knee and the panel of the backpack. You can reach inside the panel to reposition the baby if necessary.
If the baby falls asleep in the back carrier, it is important that it has a hood that you can easily put on. To do this, it must have a design that allows you to reach back to grab the end and fasten it to the strap.
It is also essential that the panel of the backpack or the hood are adjustable, so that regardless of the height of the baby, the head is well supported when sleeping.
The  LÍLLÉbaby 3-in-1 Ergonomic CarryOn are also ideal baby carriers to use on the back. With the straps we can help ourselves to move the baby forward, or in older children to raise the panel of the backpack towards our shoulders. We can also reinforce the seat to better distribute the weight of the baby on our body, and finish the knot with different finishes.