Skip Hop baby jumper review [2021]- Is it a good jumper?
With over 6k+ ratings with 5* reviews on amazon, Skip hop baby jumper is a great jumper and an all-in-one toy having lights and music it in. It is perfect for infants and also it is an adjustable product according to the baby's height so you don't worry as the baby grows. To know more about this Skip hop baby jumper, let's review Skip Hop baby jumper in detail.
Read: How to select the best baby jumper
What is so special about skip hop baby jumper?
Skip hop was founded in 2003 by Michael and Ellen Diamant and neither of the two has any background in the baby industry but their passion drove their brand this far.
Now skip hop is a global lifestyle company that re-energises and re-engineers products to inculcate happiness. It aims at making systematic and sprucely formed products for parents and babies. It sells its products across the world and is much known among new parents especially for its toys.
What makes skip hop baby jumper a perfect fit for your baby?
Product description: This product is by the brand 'skip hop'. It is made up of material like plastic and polyester. The weight of this product is around 14 pounds or we can say around 6.5 Kilograms.
This product is especially designed for the babies ranging up from 4 months or above. It requires AAA batteries for its function.
Choosing the best jumper for your baby among the diverse range of varieties available is quite challenging, so select the jumpers that fit your need.
Let's review skip hop baby jumper complete features in detail.
Features:
This product is very colourful and vibrant and it is very easy to handle.
It is a huge space saver and a travel friendly product due to its foldable nature.
It has a 360 degree rotating seat.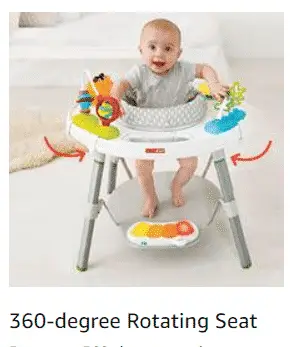 It comes with clip-on toys to increase baby's fun. It has inbuilt sound effects and light system and it can rotate to 360 degrees. Its battery life is for 15 hours.
You can easily remove and attach toys.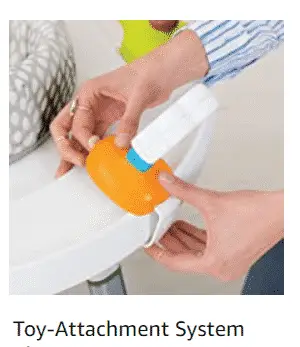 It has length of about 34.65 inches, width of about 33.5 inches and height around 28.75 inches.
Pros:
Every product has its unique features and when it comes to describe its qualities; the list goes unending.
Skip hop baby jumper stands out from other jumpers, why?
This is a really nice product when it comes to price range as it is pretty affordable than other jumpers in the market are. It keeps kids busy and is a great source of their entertainment.
It is definitely very easy to clean as it requires only a damp cloth to wipe it down.
It makes it easy for your child to move around in the house without getting injured and it also makes it easy for parents to handle their kids while managing their work.
It is also a very good alternative for trampoline especially for the kids and it is also good for keeping the kids busy at public places as this product is quite travel appropriate.
It comes with an interesting feature of bounce counter which really makes it easy to have a check on baby's activeness and at every 100th bounce this product gives a clap.
It allows baby to have free movements because it has 360 degree rotating seat.
And the clip- on toy feature allows babies to have a customised play according to their needs. So it's a pretty put together product and free from much of the hassle which other toy and jumper products have.
Cons:
When it comes to the cons of Skip Hop baby jumper review; no product is perfect, it may or may not have some issues related to its design, colour, pattern, affordability and etc.
And not only that cons are different for everybody according to their liking and needs like for some people affordability is the issue and for some people product design is the issue so in this way every product has its cons accordingly.
And talking about this jumper it is a semi foldable product and it requires disassembling of the whole jumper to make it completely storage friendly.
It has only 15 hours of battery life and it does not come with its batteries, one has to purchase it separately.
And it comes to the strap part; the stitches are not perfect.
Another thing which really upsets about this product is that it comes without instructions which make it quite difficult to assemble. So this product has some of its disadvantages as well.
So choosing skip hop jumper for your kid is not a bad option and at least giving it a try is required because so far this brand has not disappointed its customers and take cares about its consumers.
Also this product passes the affordability test and is a very useful product when it comes to nurturing a baby.
This product helps you to take care of your baby in an entertaining way although it has some cons but that can be neglected because it only requires a little bit of care and handling.
No doubt this product is a good investment as this product encourages baby's development by making him/her much more engaging and active but choosing to buy this product is a completely individual decision.
So after reading the product review in detail it completely depends on one's own decision to go for it or not.
Final Words.
So, are you happy with the features skip hop baby jumper has? If yes, then hurry and get one for your kid and let him enjoy the fun and entertainment of jumping around.