Motorola MBP36 Remote Wireless Video Baby Monitor Review [2021]
Need a Dedicated Baby Monitor? Motorola MBP36 Remote Wireless Video Baby Monitor review is here for you!
It's 10 AM, you have an online meeting soon and you decide to go fetch yourself a cup of hot coffee to liven your work-from-home experience and completely wake your body up. However, as soon as you step out of your bed you realise…would it be safe to leave your baby in the room all by itself while you go get freshened up?
You realize that your baby needs your constant attention, but then again, you cannot be constantly present in the same room every other minute of the day.
That is where baby monitors come to your rescue! What started as simply audio-only care devices for infants to let you listen in on your child from another room, have now been upgraded to video cameras with multiple connected features to the package for times when you are worried about your baby's well-being when they are sleeping and need a way to keep an eye on them.
What are the special features Motorola MBP36 Remote Wireless Video Baby Monitor has?
With 3.7 to 4 stars out of 5 from 1,216 global ratings on a platform like Amazon.com, the Motorola MBP36 Remote Wireless Video Baby Monitor with the Tilt and Zoom feature is one such device which is here to make things simpler for you.
In a sleek white body, the motorola video baby monitor mbp36 not only displays your child on the LCD screen, but also includes a host of features with which you can ensure better sleep for your child.
Motorola mbp36 baby monitor has automatic infrared night vision with adjustable brightness, video pan/tilt and zoom feature with remote or manually, room temperature monitoring, and 5 pre-recorded lullabies controlled from the parent unit. It offers a two-way communication with the touch of just a button.
A full-colour 3.5″ LCD display shows real-time video and sound in your baby's room with up to 25 FPS video playback, letting you can keep informed of what's going on visually as well as audibly. Infrared night vision means you can stay in touch with what's going in your baby's room without any lights to disturb little sleepers.
Features of Motorola MBP36 Remote Wireless Video Baby Monitor:-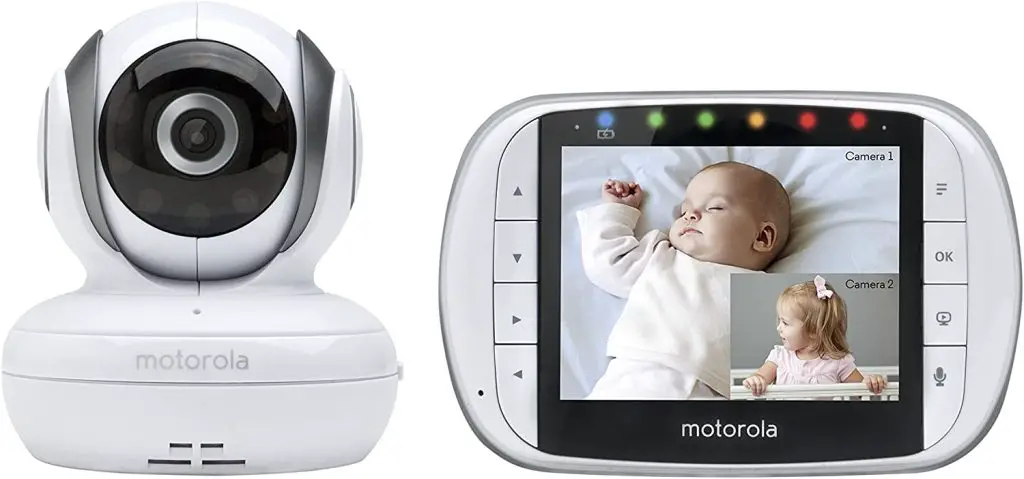 Pan, Tilt, and Zoom feature
Five Lullabies Built In – Lull your baby to sleep with one of five polyphonic lullabies programmed into the MBP36.
Data Encryption for Security
The Motorola MBP36 and its encryption for the audio data it transfers for added security and peace of mind.
Five polyphonic lullabies, remote camera adjustment, additional camera capability and five LED alerts for Sound-Activated Lights – Five LEDs on the MBP36 baby monitor indicating the level of sound activity in the room; keeping you informed of what's going on visually as well as audibly.
Up to 200 meter range with built in out-of-range warning.
Product comes with a one year warranty and,
Requires 120 V, 60 Hz power supply.
Product description:
The Motorola MBP36 offers better than average video quality, tested relatively well for range distance, and is easy to use.
With a brand name most people trust and history of making quality products, it might feel like a natural choice for some parents to make.
This baby monitor comes with a camera and full-colour 3.5-inch LCD screen. These allow you a clear view of your child.
You need not bother about running to your child's room in order to check on him or her. You also have the option of zooming, panning or tilting the camera if required. Moreover, the camera is equipped with the infrared night vision. This gives you a clear enough glimpse even in low light conditions.
This baby monitor is not only about keeping a watch, but also about taking care of the child while she is sleeping.
This is because it comes with a parent unit, which includes a room temperature display, sound level indicator, out-of-range alert, as well as a low battery alert. There are 5 lullabies, which have been pre-programmed and they help calm your child or lull her to sleep.
Most smart baby monitors are effectively just home security cameras—devices that let you watch another location with colour video, night vision and sound. From a pure imaging standpoint, night vision is vital for watching your baby sleep from another room.
Motorola's motorized pan and tilt motion is very welcome if you have a toddler and want to scan an entire room, and proves to be very helpful for the little ones who like to move around a lot!
The motorola mbp36 digital video baby monitor also features two-way communication for being able to speak or sing to your baby remotely, or to communicate with a partner in the room which is all supported by a room temperature monitor for a smooth functioning.
What is interesting is that The MBP36's transmitter is equipped with a room temperature sensor which is reported on the receiver's LCD display. This way you can ensure that it never gets too hot or too cold for your little one! In the list of wireless products in the same category, Motorola wins on this front.
What is range of motorola mbp36 video baby monitor?
Motorola mbp36 comes with a 200M range "out-of-range" warning. The superior wireless range of the MBP36 lets you keep connected to your baby up to 200 meters away.
If you have a larger home, you don't have to give up safety or the ability to stay connected to your little one. An alarm sounds when you're getting out of range of the transmitting unit, so you'll never have to wonder if you're close enough to hear what's going on.
The Motorola MBP36 video monitor features a 3.5 inch colour screen with up to a 200 meter range contingent on no obstacles around it.  The parent unit has LED sound activated lights to indicate for when your baby is crying even with the volume off.
The unit works with up to 4 cameras (sold separately; optional) and can be viewed on a quad screen, with a scan option that changes between cameras at a timed interval.
This unit includes the camera, parent unit, rechargeable battery and power cords which all come with a 1 year warranty.
The 2.4GHz FHSS technology offers a more reliable wireless connection over previous cordless technologies such as 900MHz cordless antennas.
That means better range and less chance of missing something important in your baby's room due to a weak or dropped signal. The manufacturer range with clear line of site is stated as 590 feet between camera and parent unit.
In several tests of competing one product against the other, the Motorola MBP36 Remote Wireless Video Baby Monitor could maintain a connection up to 572 feet.
This range is without obstacles and in clear line of sight and is not the kind of range parents might expect in their homes where frequent obstacles and interference might be present.
The indoor range for this unit is actually closer to 80 feet with 5 walls in the between. The average distance for the dedicated products is closer to 62 feet and 4 walls.
For the 3 foot reading it had a value of 2.91, but for 6 feet away it only dropped to 2.21.
This unit has a night vision capability of about 10-12 feet, so that reading would drop if the camera is positioned as far from baby as possible to still get good night images.
However, baby will still be exposed to more EMF with this unit than some of the others.
One can also expect a colour image that most closely matches the actual colour chart in your baby's crib.
This monitor has a night image that is pretty bright and allowed for better images.
This parent unit has a viewing screen that will automatically go to sleep, which is a nice feature that helps parents sleep in a darker room.
How to install and use motorola mbp36s digital video baby monitor?
Mbp36 Motorola is fairly easy to setup and use.
The manual can seem a little daunting and feels larger than is necessary to provide information on its use.
Parents will have to install the battery, which requires a screwdriver, but the camera and parent unit should automatically link. This means most parents should be able to set it up with no difficulty, even if they are technology challenged.
The parent unit itself has nice large buttons that are easy to use, parents will be able to use this unit, and it won't take a lot of troubleshooting to figure out the menu folders.
What is interesting is that the product also offers an alarm function that can be set to go off every 2 hours up to 6 hours.
Also, parents can eventually connect additional cameras to the unit, which can support up to 4 cameras. This monitor also comes with a temperature indicator that tells parents what the temperature is in baby's room. This might come in handy for families that use wood stoves or space heaters, but for the most part it is a feature parents and babies can live without. 
The parent unit has a 3.5 inch viewing screen that is larger than most of the competition.
It comes with a stable kickstand, but no other features for mounting or transporting it. The parent unit can also remotely operate the camera for pan/tilt, and has 1x digital zoom.
The camera itself has infrared LEDs for automatic night vision and it boasts 3 megapixels resolution.
This Motorola Video Monitor not only allows you to see, but also to hear your baby while she sleeps.
This is because it comes with a microphone as well. It is a sensitive enough device, which allows for two-way communication. You can make use of this microphone if you wish to soothe the baby with your own voice.
This monitor comes with a battery life of a good 5 hours. One can complain that this duration isn't really great given that a good night's sleep goes always beyond 5 hours but to think about it, the product is far better than those ones which offer even lesser battery lives within a higher price.
 Although the manufacturer does not make claims on how long the battery will last, it lasting up to 5-6 hours is a popular consensus.
You should also note that the monitors that did come with the longest battery life belonged to the Wi-Fi models that use a personal device for their parent units.
For a model that is wireless, Motorola performs exceedingly well.
Although the battery life is contingent on how long the parent unit lasts with other applications running on it, if any, but for the most part the model outlasted every dedicated monitor in the same category.
The best application for this monitor might be for parents who are drawn to the Motorola name and aren't interested in a Wi-Fi monitor, for whatever reason there might be.
When it's time to change the Motorola MBP36's battery, one may simply order a replacement of the same which is very easy to locate on the internet.
Motorola offers better video than most of its competition out there. With a score of 6 of 10 it performed better in several tests than 6 of the other products in the same market.
Also Read: Best Baby monitor under 100 dollars
Price of motorola baby monitor mbp36
With a list price of $250, the product has a decent amount of market value. However, optional accessories are sold separately and have their own charges.
The Motorola MBP36 performed well in various tests for video quality and range, and it made a valiant effort in battery life and ease of use for which Motorola won Editors' Choice award in 2012.
For Motorola, the market and technology for video products for babies are on the rise. Since it offers only local video and isn't supported by Wi-Fi, it has thus no remote access — the type of system people who are using a monitor exclusively at home usually prefer.
A popular consensus amongst the majority of its owners is towards the product's general simplicity and reliability that makes it easy to use.
One should note that some users have complained that battery life and charging speed decline over time, but those are unfortunately are some of the common problems among baby monitor products and Motorola, with its good record of responding to customer service issues, is trying to come up with resolutions to said problems.
That's was the detailed Motorola mbp36 review and hope you could find every detail you were looking for!
Final words
The Motorola MBP36 Digital Video Baby Monitor with 3.5 inch colour LCD screen which is equipped with an intuitive interface, acceptable image quality, adequate range and a decent battery life on its parent unit to help enhance your viewing area and allowing you to keep an even better eye on your baby is definitely a product worth looking out for!